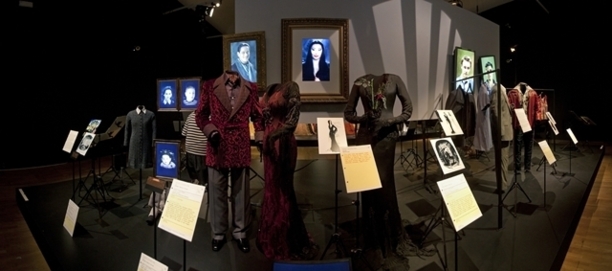 Hollywood Costume sponsored by Harry Winston, Date: 2012 Credit line: ©V&A
Le Victoria and Albert Museum rend hommage à la planète Stars du grand écran, accueillant une nouvelle exposition consacrée aux costumes des plus célèbres films hollywoodiens. Quatre salles conjuguant splendeur et nostalgie ont été aménagées, retraçant la préparation du film, la mise en place des équipes et la fabrication des costumes. Il est curieux de voir ces vestiges qui furent autrefois ou récemment portés (ainsi du costume de Dark Vador !), comme silencieux car désertés par le corps qui les a façonnés – une image des acteurs est néanmoins projetée sur le mur ou au-dessus du costume grâce à un système ingénieux de caméras ou de tablettes. Techniquement parlant, les installations jouent habilement et harmonieusement de la 2D (images fixes ou mouvantes) et de la 3D (éléments du décor et costumes). Les explications sont claires et permettent au visiteur d'entrer facilement dans l'univers du film de légende. On ne regrettera que le manque de lumière des salles et le fond noir de ces dernières qui crée une atmosphère presque funèbre - ou tout du moins très lugubre !
La présentation des costumes retrace l'histoire du cinéma américain des années 1930 au XXIe siècle. Les fantômes de Vivien Leigh (
Gone with the wind
), de James Dean (
Giant
), Marylin (
The Seven Year Itch, Some like it hot
), Chaplin (
The Tramp
) rôdent dans les salles tandis que les reliques d'
Ocean Eleven
, d'
Elizabeth the Golden Age
, du
Titanic
, de
Fight Club
,
Batman
,
Moulin Rouge
,
Spiderman
, d'
Indiana Jones
, de
Gladiator
viennent rappeler que, quel que soit le sujet, les superproductions américaines modèlent constamment le devenir du 7e art et s'ancrent dans la mémoire collective, devenant ainsi un élément du patrimoine culturel mondial.
http://www.thefrenchmag.com/Hollywood-Costume-at-the-Victoria-and-Albert-Museum-V-A_a624.html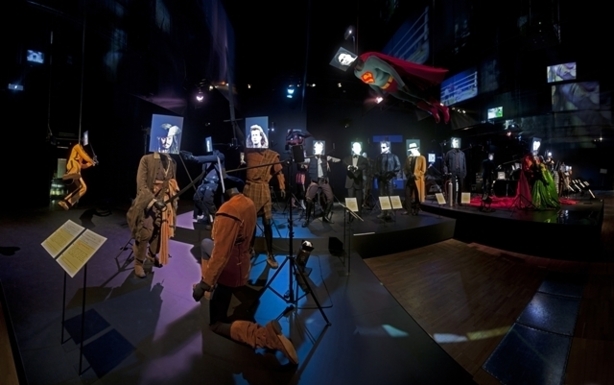 Hollywood Costume sponsored by Harry Winston, Date: 2012 Credit line: ©V&A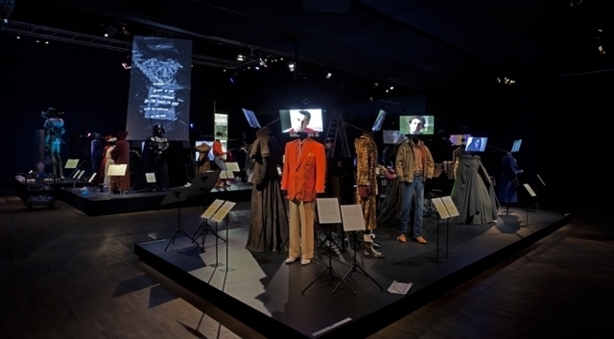 Hollywood Costume sponsored by Harry Winston, Date: 2012 Credit line: ©V&A