Présentation de l'éditeur: Alfhild Agrell, Sauvé (1882)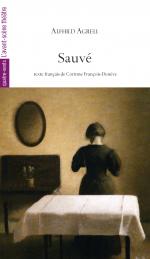 Date de parution : 20/09/2016
Auteur(s) : Sauvé
Genre : Drame
EAN : 9782749813639
ISBN : 978-2-7498-1363-9
Collection : Collection des quatre-vents
Jouée pour la première fois en 1882, cette pièce est considérée comme la « réplique » féminine et féministe à Une maison de poupée d'Henrik Ibsen. Il s'agit de la première traduction française d'une pièce de cette auteure, figure incontournable de l'intelligentsia suédoise du XIXe siècle.

Résumé
Stockholm, fin du XIXe siècle. Dans un foyer de la moyenne bourgeoisie, Viola, la vingtaine, est depuis cinq ans l'épouse soumise d'Oscar, un employé de banque jouisseur et joueur. Sous leur toit règne en maître la mère d'Oscar, la « femme du recteur », qui a investi la maison. Résignée, Viola ne vit que pour son fils, Alf, un petit garçon à la santé fragile. La « maison de poupée » de Viola est ébranlée quand on apprend qu'Oscar doit rembourser une dette de jeu, et qu'il n'a pas d'argent. Et si Viola en avait, elle ? Pourrait-elle reprendre le pouvoir et s'émanciper de la domination masculine ?
http://www.avantscenetheatre.com/catalogue/sauve
"Sauvé" sera l'objet d'une lecture intégrale le 5 décembre prochain à la Bibliothèque Nordique, à 18 h 15, avec Marion Malenfant, Fabienne Périneau, Benoit Lepecq, Joffrey Roggeman et Pierre Duprat.
Présentation de l'éditeur : Anne Charlotte Leffler, "Théâtre complet", éd. C.F. Denève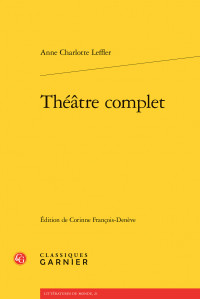 Auteur: Leffler (Anne Charlotte)
Titre : Théâtre complet
Éditeur scientifique : François-Denève (Corinne)
Collection : Littératures du monde
N° dans la collection : 21
ISBN : 978-2-8124-6091-3 / EAN 9782812460913
Lieu d'édition : Paris
Date de parution : 26/10/2016
Format : 15 x 22 x 4,3 cm
Nombre de pages : 1100 pages
Support Broché
La postérité semble n'avoir retenu, comme gloires théâtrales scandinaves du xixe siècle, que les seuls August Strindberg et Henrik Ibsen. Anne Charlotte Leffler fut toutefois, avec eux, et parfois contre eux, une femme de théâtre reconnue. Est publié pour la première fois en français son théâtre complet.
It seems that only August Strindberg and Henrik Ibsen have come down to posterity from the nineteenth century as its theatrical glories. However, Anne Charlotte Leffler was, with them—and sometimes against them—a well-known woman of the theatre. Her complete theatrical works are published for the first time in French.