Example of positions on stage: Le Joueur (The Gamester) by Jean-François Regnard, I.7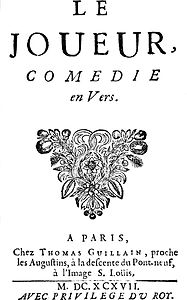 Stage-directions from the prompter book in bold.

1 2 3
GÉRONTE, VALÈRE, HECTOR.

GÉRONTE.
Wait, I've something to tell you, Valère :
(to Hector, with his stick.)
And you, I shall break your head.

HECTOR to Géronte.
If you will excuse me Sir, I have to leave.

GÉRONTE.
Stay here, beggar.
(Hector 1, Géronte 2, Valere 3)

HECTOR, aside.
He doesn't like jokes…

GÉRONTE.
I am to come to make the last trial of you, Sir. Your lifestyle is so very scandalous, that unless I see a speedy and sincere change in it, I have resolved to disinherit you. I no longer can stand your profligacy; you spend all your time playing lansquenet. Gambling is a dangerous pastime for young men who are too often ripped off by crooks; in these places, robbers triumph indeed. You can only be either a villain or a credulous fool.

HECTOR.
All these games of chance are a waste of time; I prefer gallant pastimes: people can prove how bright they are. (to Géronte.) Hence Sir, "snakes and ladders" is for instance a pretty good game, isn't it?

GÉRONTE to Hector.
Hold your tongue. (to Valère) No, nowadays, games are folly: money, jewelleries, estate, contracts, honour are gambled; women in particular gamble easily and lose happily.

HECTOR.
Oh we never take too much risk, Sir.

GÉRONTE.
Your behaviour is so outrageous; I can't stand it. Yes, I had to kick you out; I was so tired, waiting for you to come back at home; so tired that day be night and night be day.

HECTOR
Indeed: these gamblers look like the moon, going to bed in the morning and waking up at night.

GÉRONTE.
That's enough! I'll show you the extent of my power; if you don't behave properly, then you'll see…

HECTOR to Valère.
Your father is right.

GÉRONTE.
Look at him. So dishevelled, hair not combed, crazed eyes, what a look!… it seems he spent the night in the woods and did something wrong.

HECTOR aside.
How very true…

GÉRONTE.
Will you ever try to change? Speak, what should I expect from you?

VALÈRE.
Sir, I have been revolving in my mind all my acts of folly and I am ashamed that I harboured them so long. In truth, I no longer want to gamble, Father.

HECTOR aside.
That's new…

GÉRONTE.
When all their money is lost, that's the type of moral values they have.

VALÈRE.
I still have money. I shall pay my debts today and make you happy.

GÉRONTE.
If so, I'd be absolutely delighted.
(Géronte 1, Valère 2, Hector 3)

HECTOR quietly to Valère.
Pay back Sir? But how?

VALÈRE to Hector.
Will you shut up?
(Hector 1, Géronte 2, Valère 3)
(loudly to his father.) Today, my uncle endeavours to supplant me in Angélique's heart and intend to be her husband; you know how much he's in love with her…

GÉRONTE.
Yes, I know his love, and would enjoy stopping him in his endeavours.

HECTOR to Géronte.
Action must be taken quickly, speak and he won't succeed.

GÉRONTE.
I'd really want you to marry her… Angélique is extremely wealthy, not at all foolish; she's a free woman and can make her own choice. You should do you best to obtain her and first pay your creditors.

VALÈRE.
I'm going to do it straight away...... (He is about to leave, speaks quietly to Hector and then comes back). Father......

GÉRONTE.
Mmm? what's the matter?

VALÈRE.
Actually, to settle my accounts, four or five thousand pounds would be extremely helpful… If you could be so kind to….

GÉRONTE.
Ah, ah, I see… How many times did you try to deceive me? No, no, do as you want but I shall not give you a penny.

VALÈRE.
But father, believe.....

GÉRONTE.
No, not again, please.

VALÈRE.
Lend me a thousand pounds.

HECTOR.
We'll pay interests if you want.

VALÈRE.
Sir......

GÉRONTE.
I don't understand.

VALÈRE.
I don't want to deceive you. Father, believe me, I'm trustworthy. Well, keep your money and wait for my marriage.

HECTOR.
God, what a sensible man!

GÉRONTE.
And how much do you owe to your creditors?

VALÈRE.
The amount is of no importance.

GÉRONTE.
No importance?

HECTOR.
Of course, you shall not regret his spending when he lives as a gentleman.

GÉRONTE.
Listen, I'm willing to make one last effort, but if you dare…

VALÈRE
Please, calm down! You should not worry, rest on me. I'm going to see Angélique and shall convince her to change her mind.
(He leaves).