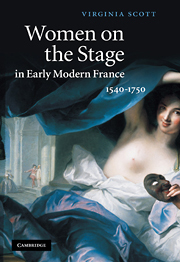 We are delighted to hear that
Women on the Stage in Early Modern France
(Cambridge, 2010) by Professor Virginia Scott, has won the
2011 Barnard Hewitt award for outstanding research in theatre history.
As stated by the author, "This follows last year's award to Mechele Léon for her book on Molière. I can't think when two books on French theatre before 1900 have consecutively won an American award. Vive la France!"
Congratulations to Professor Scott!
If you have not done it yet, read her interview:
http://www.thefrenchmag.com/Interview-with-Professor-Emerita-Virginia-Scott_a46.html