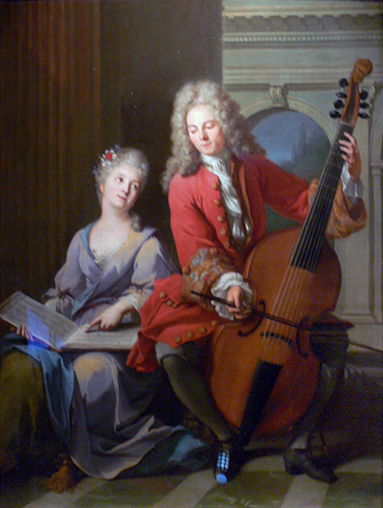 (c) Remi Mathis
Art, music, and spectacle in the Early Modern period intersect on multiple levels: sharing similar themes, formal characteristics, patrons, and artists; drawing on similar sources, from mythologies to religious texts; sharing the same physical space; and appealing to similar audiences—secular and sacred, public and private. Music and the visual arts also paralleled one another in their functions, creating avenues for developing national style, for codifying devotional practices, or for propagandistic positioning.

This panel seeks to open up a discourse on the intersection of music, spectacle, and the visual arts in order both to showcase the breadth of possibility for topics and to spark conversations between scholars interested in interdisciplinary studies. We invite presentation proposals from scholars at all levels (graduate students, as well as more advanced faculty) that address any type of connection between art, music, or spectacle in the Early Modern period. In addition to more traditional studies of patronage, iconography, and artistic collaboration, we welcome papers addressing more theoretical approaches, such as constructions of space, mnemonics and memory, sensory and phenomenological experience. The panel seeks to incorporate papers from a variety of disciplines—art history, musicology, theater and dance history, performance studies, etc.—and from a variety of geographic and historical periods.

Possible topics include, but aren't limited to:
the relationship of art and music to sacred and secular physical spaces
paragone and discourses on the relationship between the arts
relationships and movement of artists and musicians between cultures, courts, and patrons
visual depictions of music; musical representations of visual art
visual aspects of spectacle (scenery, costume, tableaux, bodily comportment, affect, and gesture)
print culture and the dissemination of the printed record of music

If you are interested, please send a 250 word abstract to Danielle M. Kuntz (kuntz038@umn.edu) or Nicole N. Conti (nicolenconti@umn.edu) by December 15th. Feel free to contact us with any questions you might have. Additionally, if you work on art and music but cannot submit a proposal for this session, please consider contacting us anyway. We are looking to compile a cohort of scholars who work these topics for future collaborations, including a session at the 2015 Renaissance Society of America conference in Berlin.