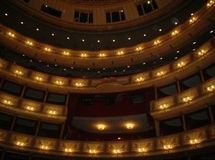 In 1969, the French President Georges Pompidou initiated a project for a national arts museum in the historical center of Paris. Architects Renzo Piano and Richard Rogers won the competition to design the world's first transparent museum. Their concept depicted the museum design itself by exhibiting the entire infrastructure of the building. According to Rogers, transparency in architecture "is comparable to the concept of transparency in the organization of a society, and therefore to democracy and openness, to the rupture of ancient hierarchies traditionally hidden behind masonry walls." A further important element was the architects' intention to create a meeting space for the museum-goer as well as for the local residents at the piazza in front of the museum. Le Centre Pompidou represents the architecture of seeing.
For the 17th annual Graduate Student Conference, the UCLA Department of French and Francophone Studies invites submissions that explore the relationships between spectator and spectatorship in literature and arts. How do we organize ourselves en masse to experience culture? One way to provide answers to this question is to examine the nature of perception and presentation of various aesthetic experiences ranging from literature, theater, and cinema to bandes dessinées and artist's books.
We welcome submissions on French and Francophone topics from a variety of disciplines. Please email a 300-500 word abstract (in English or French), along with your paper title, affiliation and contact information to uclafrenchgradconference2012@gmail.com. Papers should be no more than 20 minutes in length. Deadline for submission is June 1, 2012. Possible topics might include but are not limited to:
Personal spectacle
La mise en scène du moi, autobiography, life-writing, testimony
Vision, hallucination, blindness
Travel narrative, migration, flanerie
Romanticism and "le spectacle de la nature," the scenic
Personnage versus persona, masks, mirrors, portraiture, theatricality
Political spectacle
French Revolutions (1789, 1848, 1871), interwar France, May 68
Violence, protest, state terror, war, 17 octobre 1961, lieux de mémoire
2012 French election, political scandal, mass campaigns, satire, parody
Myth, ritual, (trans)nationalism, nationhood
Spectacle and society
Theories of the individual, theories of the collective
Court society, salons, festivals, street-theatre
Industrial and post-industrial consumerism and display, mass media
Critics, the senses, synaesthesia, aesthetics, virtuality
Medieval theatricality and spectatorship
A selection of papers presented during the conference will be edited into a published collection of essays in the UCLA French Department Graduate Student Journal Paroles gelées. To view previous issues, visit us at
http://gsa.asucla.ucla.edu/services/publications/paroles-gelees
.
En 1969, le président Georges Pompidou a envisagé un musée national situé au centre historique de Paris. Les architectes Renzo Piano et Richard Rogers ont remporté le prix de construire le premier musée transparent du monde. Leur idée était de représenter l'infrastructure totale du bâtiment. Selon Rogers, la transparence en architecture "est comparable au concept de transparence dans l'organisation d'une société, et donc, comparable à la démocratie et à l'ouverture, à l'éclatement des anciennes hiérarchies cachées derrière les murs en maçonnerie." En outre, un autre élément important était l'intention de la part des architectes de créer un espace de rencontres devant l'entrée du musée destiné au visiteur du musée aussi bien qu'aux habitants du quartier. Ainsi, le Centre-Pompidou répresente l'architecture du voir.
Pour notre 17ème colloque annuel, le département des études françaises et francophones à UCLA invite des soumissions qui examinent les relations entre le spectateur et le spectacle dans la littérature et les arts. Comment s'organise-t-on en masse pour avoir des expériences culturelles? Une façon de répondre à cette question serait d'examiner la nature de la perception et la présentation de différentes expériences esthétiques, y compris la littérature, le théâtre, le cinéma, les bandes dessinées, et les livres d'artistes.
Nous accueillons des soumissions au sujet des matières françaises et francophones provenant d'une variété de disciplines. Veuillez envoyer un résumé de 300-500 mots (en anglais ou en français), accompagné par un titre, un court cv, votre affiliation universitaire et vos coordonnées à uclafrenchgradconference2012@gmail.com. Les communications devraient durer 20 minutes au maximum. Les candidatures doivent être déposées avant le 1er juin 2012
Les sujets/thèmes pourraient inclure mais ne sont pas limités:
Au spectacle personnel
La mise en scène du moi, l'autobiographie, le témoignage
La vision, l'hallucination, l'aveuglement
Récits de voyage, la migration, la flânerie
Le Romantisme, le spectacle de la nature, le pittoresque
Les masques, les miroirs, les portraits, le théâtre
Au spectacle politique
Les révolutions françaises (1789, 1848, 1871), France de l'entre deux guerres, mai 68
La violence, les manifestations, la guerre, 17 octobre 1961, les lieux de mémoire
L'élection presidentielle 2012, le scandale politique, la satire, la parodie
Mythe, rituel, (trans)nationalisme
Au spectacle et la société
Les theories de l'individu et du collectif
La cour, le salon, les festivales
La consommation industrielle et post-industrielle
Les critiques, les sens, la synesthésie, l'esthétique, la virtualité
La théâtralité médiévale et le spectateur
Suite au congrès annuel, une sélection d'interventions présentées au cours de la conférence seront éditées et publiées dans Paroles gelées, le journal de notre département. Pour plus d'informations, visitez notre site web:
http://gsa.asucla.ucla.edu/services/publications/paroles‐gelees
.
Source: Fabula