Presentation by the Petit-Palais: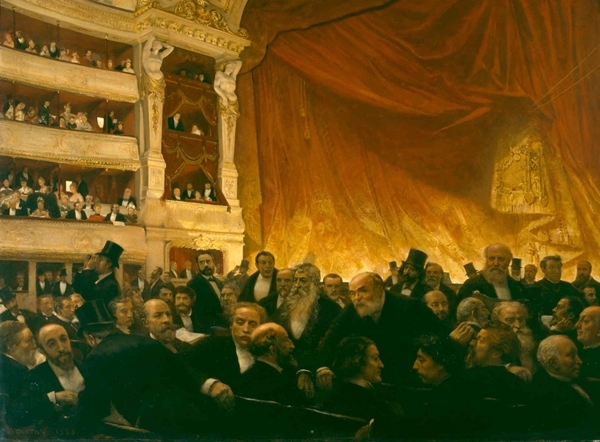 Un entracte à la Comédie-Française un soir de première, en 1885 / Edouard Joseph Dantan, 1886 (I 192) - © Patrick Lorette / Comédie-Française
It is no accident that the Comédie-Française exhibits its collections at the Petit Palais: everybody knows the stage, but there is an extraordinary artisitc heritage, that almost nobody has heard before of. It tells the story of a family, Molière's company, from the 17th century until today: portraits and busts, which show comedians' working, or which remain famous authors, sessions of the Reading Comittee, stage working, prestigious props...

Thanks to the museum-library, two-hundred works (paintings, sculptures, archive documents, personnal objects, props and models) allow the visitors to discover the backstage of the Theater and enter in such a mysterious world.

The Petit Palais Museum forms a partnership with this three-centuries-old institution to offer an exhibition about the House, its company, its authors, and particularly Molière. As one of the major figures of the classical french repertory, he is at home in the Comédie-Française. Founded by Louis XIV, the House defends the texts of the centuries, that are gone, but the current artisitc avant-garde too.

The Petit Palais invites Molière, he will be the leader of the visit... a path behind the curtain, behind the set... a revelation!

Opening hours
From Tuesday to Sunday, 10h to 18h, late-night opening on Thursday until 20h.
Closed on Monday and public holidays.

Admission charges
Full fare ticket : 9 euros
Reduced rate ticket : 7 euros
half-price ticket : 4,5 euros
More details about tariffs

Acknowledgements: many thanks to Caroline DELGA-SOUQUIERES who kindly provided the images.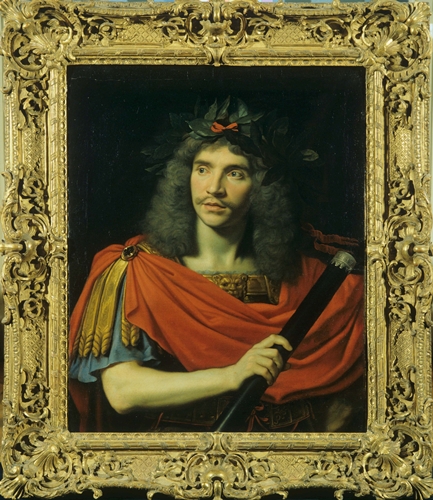 Molière dans le rôle de César (La Mort de Pompée, Corneille) / Nicolas Mignard (I 260) © Patrick Lorette / Comédie-Française