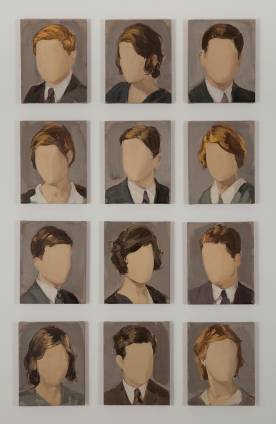 Class of 1931, 2013. Courtesy Galerie Karsten Greve Paris
Alongside an impressive retrospective of sculptures by Louise Bourgeois (
Louise Bourgeois: Rare and Important Works from a Private Collection
, March 23-June 1), the Karsten Greve gallery in Paris opened a second exhibition this month, containing some recent paintings by the Israeli-born and London-based artist Gideon Rubin. At first sight, Rubin's paintings hardly look particularly modern next to Bourgeois's powerful and evocative works: most of them are beautifully painted portraits of solitary figures posing nonchalantly in front of hazy backgrounds. One striking parallel, however: none of the figures has a face. Instead, thick layers of colour evoke a screen or a canvas on which the visitor is sometimes tempted to paint a face, so provocatively do the eyeless and featureless figures seem to stare at the spectators.
Rubin wanted to give his models, which he originally found in photographs from the 1940s on flea markets or ebay, an air of anonymity, and he also wished to allow viewers to project their own images of known or invented faces on the empty screens. The "neutral" backgrounds, which make it difficult to situate the scenes in space and time, and the lack of relations between the figures that precludes any obvious narrative layer, are designed to leave as much freedom as possible to the viewer's imagination.
The exhibition also contains a selection of paintings inspired by photographs of celebrities or models from fashion magazines. Their graceful poses and trendy outfits add to a certain air of sweetness and superficiality in Rubin's works, which is partly counterbalanced by the disturbing effect of the figures' empty glances.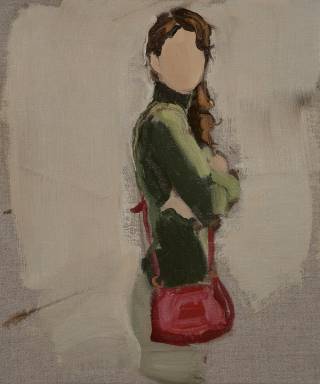 Green Turtleneck, 2013. Courtesy Galerie Karsten Greve Paris.
The absence of faces also diverts the viewer's attention away from the models' personality to the details of Rubin's painting style: for instance his ample, sensuous brushstrokes, the creamy quality of his colours and the constant play with opacity and translucency, with realistic detail versus abstraction and with carefully painted parts versus raw surfaces. Thus, you might catch a glimpse of a woman's dark underwear beneath her white shirt, while her face is a thick flesh-coloured screen. Another woman's hair might be elaborately painted in various shades of blonde and brown, whereas the background merely consists of vague patches of beige which fade into the bare canvas around the edges. Rubin also mixes media and incorporates movement and sound in a projection of the image of a walking man on a painted canvas. Some landscapes, equally hovering between representation and abstraction, equally loosely anchored in space and time, complete the exhibition.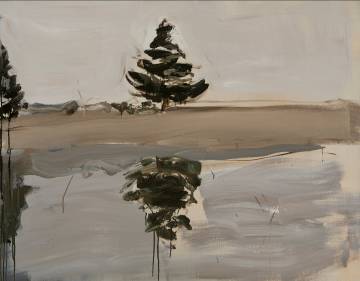 Untitled (Tree Reflection), 2013. Courtesy Galerie Karsten Greve Paris.