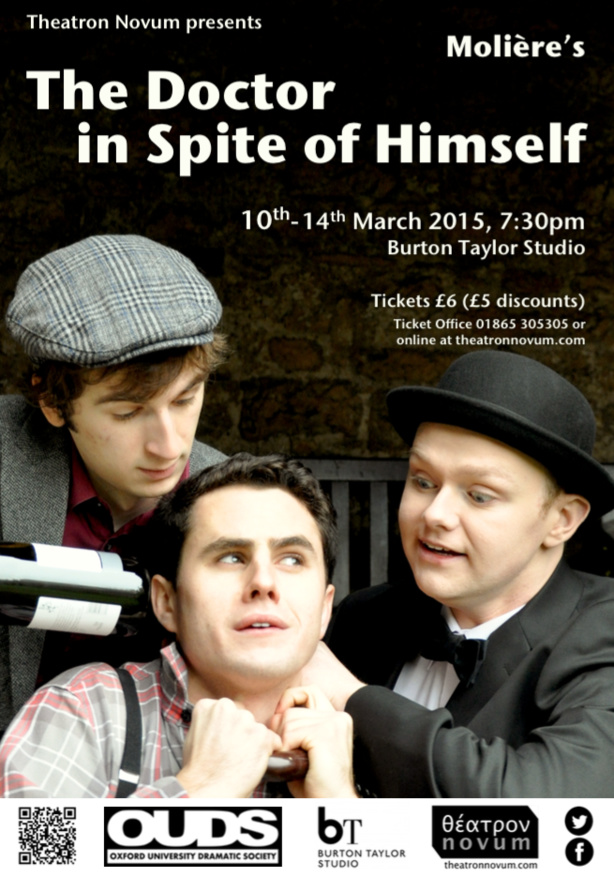 The alcoholic woodcutter, Sganarelle, becomes a physician against his will and helps a young couple find love. This timeless depiction of quack doctors and their trusting patients is one of Molière's wittiest short comedies. The vibrant characters are brought to life in this performance, influenced by farce and commedia dell'arte.
The performances will take place at the Burton Taylor Studio in Week 8 of Hilary Term, from Tuesday the 10th to Saturday the 14th of March 2015, at 7.30pm.
Book @:
http://www.oxfordplayhouse.com/btsstudent/
OR
http://www.theatronnovum.com/the-doctor-in-spite-of-himself.html
Theatron Novum is a theatre group based at the University of Oxford which aims to breathe new life to old masterpieces. It was recently founded by Dionysios Kyropoulos and Dr Sabine Chaouche.
Our first production is Molière's
The Doctor in Spite of Himself,
a three-act comic masterpiece influenced by farce and inspired by a fabliau from the Middle Ages, in an 19th-century English translation. It was first performed in 1666 at the Palais-Royal in Paris with huge success, but is very rarely performed in England. As a parody of the medical profession, it provides a timeless depiction of quack doctors and their trusting patients and leads to laughs and self-reflection.