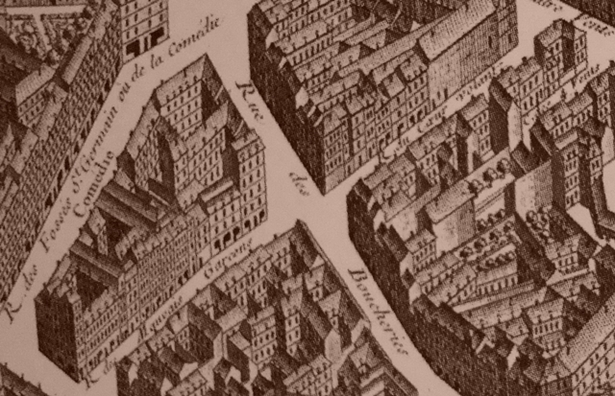 Plan Turgot
Marketing theatrical products was also part of the business operations undertaken by the actors.
Posters were regularly ordered from a printer. In the 1740s black and white posters were used (5 liv. 15 sols) but the Comédie-Française would generally order green ones. Each institution had its own colour scheme: yellow represented the Académie royale de musique and red, the Italians.
Each morning billposters would criss-cross the streets of Paris, especially the west side, putting up posters on the official sites permitted by the police, sometimes on the doors of some rich residents for one louis per year. They occasionally had to send cancellations orders to the printer who would be billed at 5 liv. 15 s.
Actors would also sell posters of the company: in May 1749, 25 "Tableaux de Messieurs les comédiens en grand" (25 pictures of the comédiens, in a large size format), and 25 in a small size were ordered from Gaubère, a bookseller (12 liv. 10 s and 6 liv. 15 s.). Engravings representing actors were regularly printed and sold.
The Comédie-Française not only had an excellent network but also good logistics within Paris. By advertising daily shows out of the Saint-Germain suburb, especially in middle class areas, and by developing merchandising, actors made sure they generated demand and attracted spectators. A sort of operational marketing was therefore put in place: through annual memberships (deals with spectators); through prices (discounts when stand-in actors would play or "small days" such as Tuesdays and Thursdays); through ballets which were run as an expedient to satisfy the needs of audiences for popular forms of entertainments as well as diversified programmes and new plays; through new products (e.g. novelty 6 sided tickets for new plays).
The making of a profit and the wealth of a business depended strongly on the location in Paris. The Comédie-Française with royal privilège found a perfect place in the Saint-Germain faubourg which was a commercial area with a well known luxury marketplace, the Saint-Germain fair. The quartier was not affected by street congestion as much as in the city centre. It had many advantages: it offered easy access from the right bank to the left bank thanks to the Pont-Neuf; the quartier progressively became more gentrified and attracted more middle and upper-classes. Yet the Comédie-Française had not only a monopoly on performing comedy and tragedy but also a grip on the quartier in which it was located.
Sabine Chaouche