The Two Gentle Means of The Heron
The Taming of the Screw
Tits and Raw Crocus
The Comedy of Mirrors
A Mid-supper Fright's Scream
The Tragedy of Video and Julep
Rich?... Hard Too!
The Mermaid of Venice
King Gong
Match Your Shoes To Clothing
Jolly Scissor
As You Spike It
Ham, Yet!
Elves' Night
Pleasure for Pleasure
Hotel Owl
All's Wet That Ends Wet
Ping... Hear
Mic's Beat
The Winner's Ale
Timberline
The Conquest
Carpaccio

Answers below.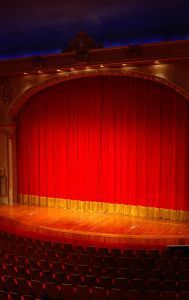 The Two Gentlemen of Verona
The Taming of the Shrew
Titus Andronicus
The Comedy of Errors
A Midsummer Night's Dream
The Tragedy of Romeo and Juliet
Richard II
The Merchant of Venice
King John
Much Ado About Nothing
Julius Caesar
As You Like It
Hamlet
Twelfth Night
Measure for Measure
Othello
All's Well That Ends Well
King Lear
Macbeth
The Winter's Tale
Cymbeline
The Tempest
Cardenio