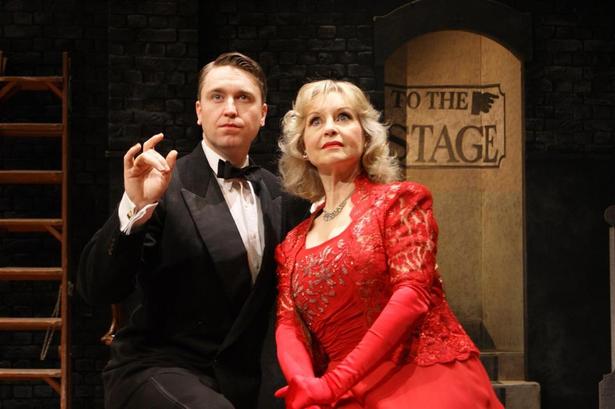 (c) Oxford Playhouse - Daniel Casey et Liza Goddard dans "Star Quality"
Qu'est-ce que le milieu théâtral ? « Un savoureux panier de crabes » semble nous dire Noël Coward dans ce qui fut à l'origine une nouvelle et qui fut adapté à la scène en 1967 :
Star Quality
. Cette comédie représentée récemment à l'Oxford Playhouse montre les coulisses du spectacle - et ses artifices.
Brian Snow, timide et quelque peu placide auteur de
Dark Heritage
est contraint à descendre brutalement de son nuage alors que débutent les répétitions. On lui demande de modifier sa pièce qui, si brillante soit-elle, n'est pas adaptée au goût du public. Rapidement confronté aux exigences de la scène (ou de l'économie du spectacle), du metteur en scène, de son assistant, voire des caprices des stars,
Dark Heritage
ressemble à un champ de bataille où egos et personnalités dansent ensemble, couteau à la main, le pantoum des amoureux. Chacun cherche à manœuvrer l'autre, à ne pas perdre la face et en ce qui concerne Lorraine Barrie, actrice dont l'aura intemporelle risque à tout moment le court-circuit, à sauver les meubles, c'est-à-dire sa réputation et sa gloire : persiflage teinté d'un sourire angélique, petites piques décochées au détour d'une phrase, crise grandiose de mégalomanie et caresses enrobées d'un charme mielleux savamment calculé, le spectateur voit s'élaborer au cours des scènes la notion même de théâtralité et ses variantes (comme le théâtral social hors de la scène), plus que, peut-être, celle de « Star quality » (ce qui caractérise une personnalité stellaire capable de répandre magie et adoration par sa seule présence).
En ce sens, la pièce oscille entre théâtre dans le théâtre, art théâtral, théâtralisme, monde de la scène et scène du monde, et même distance brechtienne à travers la mise en scène d'une théâtralité qui s'exhibe sans complexe : les scènes fonctionnent à la manière d'un fondu enchaîné, les accessoires et les meubles étant transportés et placés sur le plateau avant même que la scène ne se termine.
Les acteurs ont chacun élaboré leur personnage, ou ce qui peut s'apparenter à des stéréotypes. Mais qu'importe puisqu'il s'agit ici de représenter la théâtralité. Daniel Casey, Liza Goddard, Antony Houghton, Sarag Berger, Keith Meyers ou Bob Saul font vivre leur personnage en quête d'écoute et d'audience.
L'adaptation réalisée par Christopher Luscombe comprend deux actes (le premier étant relativement lent). Les lieux sont multiples, parfois doubles sur scène. En outre, la mise en scène donne une très bonne idée de ce que put être l'atmosphère des années 1950, et l'on peut même y percevoir une résurgence, voire même un écho de l'esprit Bright Young Things. On fume beaucoup sur scène, on se joue la comédie, déguisé ou non, on y boit, et tout y est infiniment « divin ».
Compte rendu par Sabine Chaouche
Presentation by the Oxford Playhouse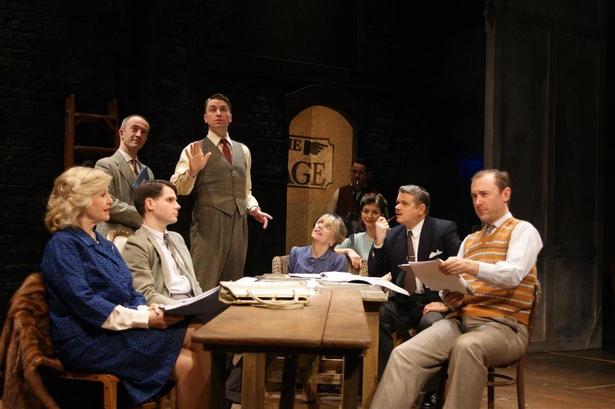 (c) Oxford Playhouse - Star Quality
By Noël Coward
Adapted by Christopher Luscombe Directed by Joe Harmston
We're putting on a play, not fighting a bloody war.
Why can't people in the theatre behave like normal human beings?

Liza Goddard and Daniel Casey star in Noël Coward's final play, Star Quality.

Taking us behind the scenes of a new West End production, Star Quality conjures up a wickedly observant satire of the backstage world of talent and treachery and a gallery of unforgettable characters: a temperamental leading lady, a ruthless director, jaded old troupers and, caught somewhere between them all, an innocent young playwright.

From tentative first rehearsal to triumphant opening night, both leading lady and director are determined to get their own way and the resulting clash of egos becomes increasingly and hilariously bloody. What emerges from the mayhem of biting wit, hissy fits and fisticuffs is a startling evocation of that most elusive gift of all - star quality.

Stars of TV and Stage Liza Goddard (Take Three Girls) and Daniel Casey (MidSomer Murders) lead a superb cast of 10 with West End legend Gay Soper (Sunday in the Park with George), Sarah Berger, Simon Cole, Anthony Houghton, Keith Myers, Brendan Riding, Bob Saul, Sonia Saville and Lola the dog, in her professional stage debut.

Adapted by Christopher Luscombe (director of The Madness of George III and The History Boys) and directed by Joe Harmston (Artistic Director of the Agatha Christie Theatre Company), Star Quality is a fitting farewell from Noël Coward, one of the most distinctive voices of British theatre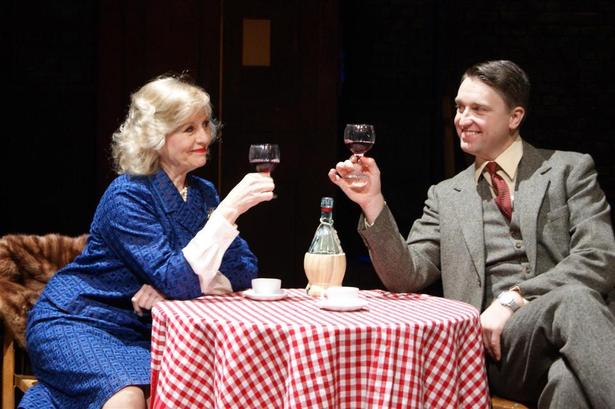 (c) Oxford Playhouse - Daniel Casey et Liza Goddard dans "Star Quality"