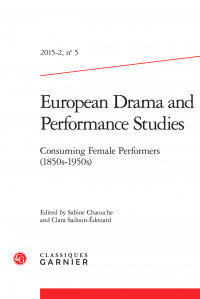 Référence bibliographique :
European Drama and Performance Studies
, Editions Classiques Garnier, 2015. EAN13 : 9782812448416.
Summary:
This special issue focuses on the way in which female performers expressed their talent by staging their body and in the meantime became commodities and were fashioned by a growing consumer and capitalist society (hence the use of the verb "consuming"). It goes beyond 'clichés' on music hall stars as prostitutes by assessing the theatrical and cinematographic responses given by authors, artists and the Industry to audiences aiming to socialize in popular districts or places, from the mid-nineteenth century (first music-halls, cabarets and later Variety theatres in Europe) to broadly speaking, the 1950s and Marlène Dietrich, especially with the use of the female body as a modern spectacular form of popular entertainment. It builds on a transnational approach focusing on Great Britain, the United States and France. The performer is not reduced to her body alone but also examined in a broader context including literary movements, the fashion industry, the arts and media. Contributors explore body stories, the way in which actresses played with genre and sexuality, and were regarded as a commodity and finally consumed as celebrities.
Contributors:
Catherine Authier, Julien Botella, Corinne François-Denève, Hélène Laplace-Claverie, Edlira Mandis, Allison Neal, Véronique Pouillard-Maliks, Jacqueline Razgonnikoff, Nina Rolland, Clara Sadoun-Édouard, Marlis Schweitzer, Rachel Shteir, Michelle Finamore, Klaus Van den Berg, Gabriel P. Weisberg, Stephanie Wooler, Jean-Claude Yon.