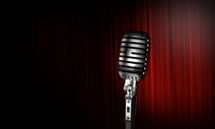 Organisateurs :
Elisabeth Angel-Perez, Pierre Iselin, Marie Pecorari (VALE EA4085, Université Paris-Sorbonne). Co-partenaires : Alexandra Poulain (équipe d'accueil Cecille, Université Lille 3) et Christian Biet (Recherches théâtrales et cinématographiques - EA 3458, Paris-Ouest)

Jeudi matin16 juin/Thursday morning, June 16 (INHA)

8h45-9h00: accueil des participants et ouverture du colloque/registration and conference opening
Président de séance/Chair : Christian Biet
9h-9h30 : Pierre Iselin (Paris IV) : Avatars de la voix sur la scène élisabéthaine : masculin, féminin, mue
9h30-10h : Chantal Schütz (Paris IV) : Les trois voix de Desdémone: de la « Willow Song » à la « Canzona del Salice »
10h-10h30 : François Laroque (Paris III) : Mel et sal. Suavité et sévérité de la voix dans Twelfth Night

pause

11h-11h30 : Pierre Dubois (Tours) : The Sexed/Unsexed Voice on the London Lyrical Stage in the 18th century
11h30-12h : James O'Leary (Yale) : "In Between," The politics of voice in Duke Ellington's Beggar's Holiday (1946)
12h-12h45 : Bruce Smith (University of Southern California): Conférence plénière/Keynote address: Within, Without, Withinwards: The Circulation of Sound in Shakespeare's Theatre

Déjeuner/Lunch

Jeudi après-midi 16 juin/Thursday afternoon, June 16, INHA

Présidente de séance/Chair : Elisabeth Angel-Perez
14h30-15h00 : Laetitia Pasquet (Paris IV) : "Maybe to blot out the voice?": Vocalisation de l'horreur dans One for the Road, Far Away et Fewer Emergencies
15h00-15h30: Solange Ayache (Paris IV) : De la mise en silence à la prise de parole : la voix féminine de Martin Crimp à Sarah Kane
15h30-16h00 : Eléonore Obis (Paris IV) : Voix et rhapsodie dans The War Plays d'Edward Bond

Pause

16h30-17h: Vicky Angelaki (Birmingham) : 'Have you not been listening?' Voice and Intersubjectivity in Contemporary British Theatre
17h00-17h30 : Charlotte Bouteille-Meister (Paris-Ouest) : La disjonction de la voix et du corps comme fondement de la performance dans les spectacles Spectacular, Void Story et The thrill of it all de la compagnie Forced Entertainment
17h30-18h15 : Helga Finter (Giessen) : Conférence plénière/Keynote address :
Prompted, Stolen and Intervocal Voices in New American Theatre Concert à 20h/Concert at 8 p.m. (grand auditorium de l'INHA) : « 'Spring Symphony': Songs for the stage old and new », première partie : Les Sorbonne Scholars (dir. Pierre Iselin) avec la participation de François Bonnet (luth) ; deuxième partie : Alexandra Poulain (soprano), Marion Kilcher (contralto), Gilles Couderc (baryton), Liana Assatrian (piano).


Vendredi matin 17 juin/Friday morning, June 17, INHA

Présidente de séance/Chair : Alexandra Poulain
9h-9h30 : Emeline Jouve (Toulouse II) : Harmony in Discord ? Polyphony and Dialogism in Susan Glaspell's The Outside (1917)
9h30-10h00 : Aurélie Sanchez (Toulouse II) : Les voix de la discorde. Répétitions et dissonances dans The Iceman Cometh de Eugene O'Neill
10h00-10h30 : Cristina De Simone (Paris-Ouest) : Gertrude Stein et le rôle de la lecture à haute voix dans les avant-gardes américaines

pause

11h00-11h30 Marie Pecorari (Paris IV) : Voicing Memory in Suzan-Lori Parks'Early Plays
11h30-12h00 : Julie Vatain (Paris IV) : Borrowing another voice or the Cyrano complex : vocal identity in Tina Howe's theatre
12h00-12h45 : Rencontre avec Tina Howe (dramaturge/playwright)

Déjeuner/Lunch

Vendredi après-midi 17 juin/Friday afternoon, June 17, Sorbonne Président de séance/Chair : Pierre Iselin
14h45-15h15 : Pascal Aquien (Paris IV) : « Le cri et le cru : Salomé ou les métamorphoses de la voix, d'Oscar Wilde à Richard Strauss »
15h15-15h45 : Pierre Longuenesse (Artois) : Le « Written Speech » yeatsien et ses expressions scéniques : L'exemple du comédien Franck Fay à l'Abbey Theatre, de 1900 à 1907
15h45-16h15 : Alexandra Poulain (Lille III) : Grotesque Bodies and Ghostly Voices : Beckett's All That Fall and Footfalls as Passion Plays

pause

16h45-17h15 : Aloysia Rousseau (Paris IV) : L'horreur acoustique : musiques anempathiques dans le théâtre anglais contemporain
17h15-17h45 : Vanasay Khamphommala (Paris IV): Bouches béantes et voix blanches dans les pièces récentes de Howard Barker

pause

17h45-18h30 : Danielle Cohen-Levinas (Paris IV) : Conférence plénière/Keynote address: Kafka, éthique et animalité : feu Gregor Samsa ou les métamorphoses d'un opéra
18h30 Clôture du colloque et cocktail au Club des Enseignants (Sorbonne)

Contacts :
Elisabeth Angel-Perez (eangelperez@wanadoo.fr)
Pierre Iselin (Iselin.Pierre@gmail.com)
Marie Pecorari (Marie.Pecorari@paris-sorbonne.fr)

Lieux :
Le colloque se déroulera à l'INHA, 2 rue Vivienne 75002 Paris (Grand auditorium) et à la Sorbonne, le vendredi après-midi, salle F 670 (escalier G 3ème étage), entrée par le 46 rue St Jacques 75005.