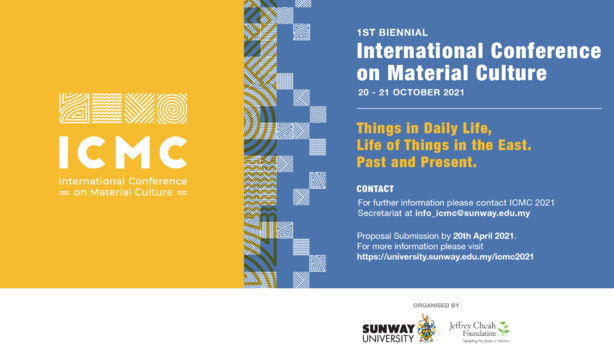 The School of Arts, Sunway University organises this year the first International Conference on Material Culture (ICMC), which is themed: "Things in Daily Life, Life of Things in the East. Past and Present".
ICMC was conceived in January 2021 as the first of its kind held locally and internationally that focuses on Asian and Southeast Asian material culture. The main objective of ICMC is to serve as a platform for researchers and scholars from the academia, along with creators and artists from the industry, to share their research ideas and creations revolving around Asian and Southeast Asian material culture, as well as to form alliances towards developing and exploring new knowledges and creative approaches that will benefit mankind and humanity, and more generally to contribute to Planet Health.
The conference this year aims to provide a better understanding of past and present societies through objects that are no longer used or whose "life" is endangered by new modern lifestyles. We also aim to reconstruct the vision and perception of time through the use of objects, that is: routines; the idea of rapid or progressive obsolescence; phenomena such as "ageing" or travelling things; the different life cycles from the making to the "death" of objects (manufacturing, use/reuse, meaning in society, destruction etc.); the crystallisation of some objects in the memory of some individuals through emotions and feelings.
We invite researchers to explore the following themes:   
1. Utilitarian Objects
2. Moving Objects
3. Playful Objects
4. Objects Through Time(s)
The full call for paper and submission guidelines can be found at:
https://university.sunway.edu.my/ICMC2021/call-for-paper
Please disseminate the call to anyone who you may be interested in the topic.
We are happy to answer any questions you may have (info_icmc@sunway.edu.my).
Scientific Committee:
Prof. Dato Dr. Ghulam-Sarwar Yousof (University of Malaya, Malaysia)
Prof. Crispin Bates (Sunway University, Malaysia & Edinburgh University, UK)
Prof. Craig Clunas (The University of Oxford, UK)
Prof. Anne Gerritsen (Warwick University, UK)
Prof. Dorothy Ko (Barnard College, Columbia University, US)
Dr. Welyne Jehom (University of Malaya, Malaysia)
Note that all the website designs were created by Ms Bibi Zafirah Hanfa Badil Zama, lecturer in the Department of Arts, Design and Media.

V5_ICMC_Poster 2.pdf
(28.65 MB)